Bitcoin Struggling Against Bearish Momentum
Key Takeaways
Bitcoin has broken below a strong foothold at $45,000. 
The next critical support zone lies between $39,000 and $37,300.
Failing to hold above this level could send Bitcoin to $30,000 or lower.  
Share this article
Bitcoin is struggling to find a stable support floor as bears appear to have taken over. Historical price action suggests that BTC must hold above $37,300 to avoid capitulation. 
Bitcoin Bulls Put to Test
Bitcoin has breached the $45,000 support level, and is threatening to dip lower. At press time, Bitcoin was trading just under $43,500.
The Fibonacci retracement indicator, measured from Jun. 2021's low at $28,750 to the all-time high at $69,000, suggests that Bitcoin will continue its descent. The next critical demand barrier underneath the flagship cryptocurrency lies between $39,000 and $37,300. 
Such a crucial interest zone might have the strength to hold since the Tom DeMark (TD) Sequential prepares to present a buy signal on the weekly chart. The bullish formation forecasts that around Jan. 17, Bitcoin could enter a one-to-four week run-up or a new upward countdown. 
The buying pressure that might be generated in the next two weeks is critical for Bitcoin to regain the 50-day moving average at $50,000 as support and march towards record highs.
Failing to gain enough steam can be devastating for the bulls as the 100- and 200-day moving averages are the last demand zones underneath BTC. These key levels sit at $30,000 and $19,000, respectively.  
Although a capitulation event may appear out of the question given the strong fundamentals behind Bitcoin, the Relative Strength Index suggests otherwise. 
The RSI appears to have behaved a certain way each time Bitcoin is capitulated since the 2014 bear market. This momentum indicator tends to drop to the 42 level, rebound, and then breach this support floor to mark the beginning of a sell-off. 
Similar market behavior occurred over the past six months. In Jul. 2021, the RSI bounced off the 42 level to reach 69 in Nov. 2021. The rejection pushed the RSI back to 42, where it currently holds. If history were to repeat itself, it is reasonable to assume that capitulation towards $19,000 is near.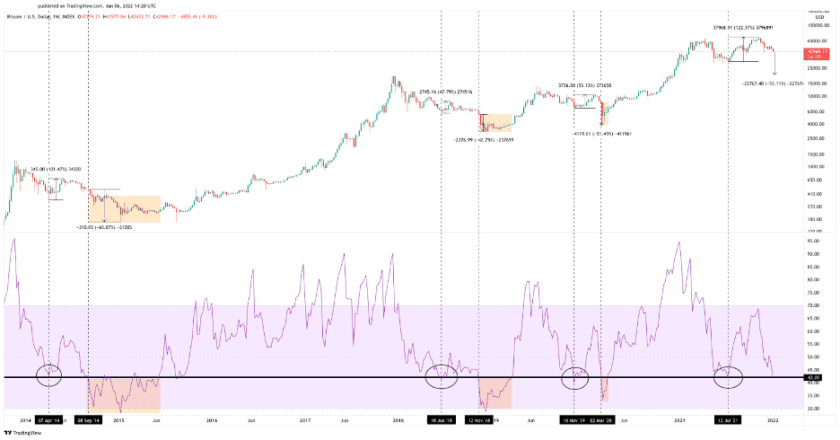 While Bitcoin appears to head lower, the bulls must prepare to defend the $39,000-$37,300 support wall at all costs. Such a crucial demand zone can represent one of BTC's last opportunities to resume its uptrend for some time.
Disclosure: At the time of writing, the author of this piece owned BTC and ETH.
Share this article
Bitcoin Falls 5% as Fed Confirms Interest Rate Hikes
Bitcoin prices fell by roughly 5% today alongside news that the U.S. Federal Reserve will raise interest rates in the coming months. Bitcoin and Ethereum Are Down Bitcoin (BTC) prices…
What is a Crypto Airdrop: Why Projects Airdrop Crypto
Crypto airdrops occur when new tokens are freely distributed to different wallets in order to drive initial growth and build a community. They represent a popular marketing tactic that new projects use to spread…
Bitcoin Drops Below $8,000 as Markets Tumble
Bitcoin is going through a steep decline as concerns over the spread of the coronavirus continue to rise worldwide. Extreme Levels of Fear in Markets Fears over widening coronavirus outbreak…
Bitcoin Falls Below Key Support at $30K, Dragging Alts Lower
Bitcoin has slumped below $30,000, a crucial level of psychological support that will likely have a major impact on sentiment. BTC Dominates the Market Bitcoin is now trading in the…